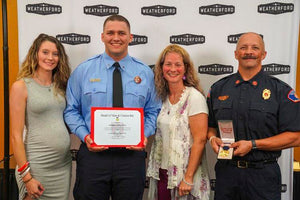 WFD firefighter honored with Firefighter Medal of Valor
WEATHERFORD — A Weatherford firefighter this week was recognized for his bravery and life-saving efforts of a 19-year-old man last month.
Weatherford Fire Chief Jonathan Peacock presented firefighter Dakota Stroud with a Medal of Valor and Citation Bar, as his family and those of the man he saved, Jayce Glenn, watched.
Calling him a "warrior," Peacock narrated the event on July 10, when Stroud and his wife were on their way to the family ranch and happened upon a wreck in Granbury.
"A man had run off the road, and his vehicle collided with a tree," Peacock said. "When the vehicle struck the tree, it spun and landed on the passenger side. The damage to the vehicle was tremendous and a fire started in the engine compartment."
Stroud grabbed his fire extinguisher from his vehicle and immediately went in search of any persons, locating Glenn in the driver's seat, trapped by the brake pedal and steering column.
"Dakota also noticed that the engine fire was now into the cab of the vehicle and was burning the passenger seat below Jayce," Peacock said. 
Stroud was able to extinguish the fire and continued trying to free Glenn from the vehicle, when it began burning from the inside again and, at this point, burning Glenn.
"Dakota told him, 'This is gonna hurt,' and with every bit of his strength, he pulled Jayce up and out of that vehicle," Peacock said.
A bystander helped carry Glenn away from the vehicle, which at that point had become almost fully engulfed in flames. 
But Stroud didn't stop there. He secured a tourniquet to put on Glenn's leg to stop the hemorrhaging, and continued to work with first responders who had arrived on scene, all the way until the Glenn was loaded into a waiting helicopter.
Glenn's injuries were many: a neck fracture, broken right ankle, leg fracture, compound fracture of the right femur, a fractured right hip, bruised ribs and lungs, a lacerated right kidney, a bruised right elbow, and multiple scrapes and burns.
"Jayce could not be with us, but not why you would think," Peacock told council members Tuesday. "He is currently off attending college."
About five days following the accident, Stroud made contact with the Glenn family, who updated him on Jayce's condition, and a week later, the two were able to meet again.
Weatherford Mayor Paul Paschall thanked Stroud for his heroics, and commended his family.
And to the Glenn family, "you're a part of our family," he said.
---